Sections
How to build a better brace and propel those with lower limb trauma
The centerpiece of Jason Wilken's lab looks a bit like a fashion show runway. Long and low to the ground, a platform stretches from one side of the lab to the other. Above the platform, black scaffolding provides perches for 12 tiny cameras. 
And that's where the comparison to haute couture ends. 
About midway down the platform are force plates, which measure ground reaction forces during walking or other types of movement. Further along is a section embedded with small rocks. Alongside the platform is a giant treadmill and 3D virtual reality studio—all crucial to Wilken's work to design the perfect leg and ankle brace. 
The high-tech catwalk is housed in the Human Performance and Clinical Outcomes Lab, a space Wilken (01MPT, 06PhD) designed when he returned to the University of Iowa Carver College of Medicine as a faculty member in 2017. Wilken, an expert in rehabilitation science with graduate and doctorate degrees from the UI, has spent more than a decade using biomechanical gait analysis to understand and improve recovery following traumatic injury.
He believes that well-fitting and properly tuned braces made with advanced materials could revolutionize the way physicians and physical therapists treat people who have experienced lower limb trauma. Traumatic injuries often lead to reduced mobility and diminished quality of life. They also can result in osteoarthritis and other health problems. 
Revolutionizing lower limb trauma treatment
"Our goal is to improve function and prevent the development of ankle arthritis by using custom carbon fiber bracing to reduce impact force and protect cartilage," Wilken said during a recent visit to his lab, one of only two of its kind in the country.
My primary goal is to improve quality of care and cut costs so more individuals can benefit from the improved function these devices provide."
Jason Wilken, PT, PhD, associate professor of physical therapy and rehabilitation science
Wilken and his team use the lab to study a subject's gait and measure joint movements, muscle activity, and physical forces on the body to better understand how much support different orthotic devices provide and how well they can relieve pain and aid movement. Study participants and patients walk down the long platform as tiny cameras record movement using reflective markers, and sensors in the floor measure the physical force on damaged limbs. Digitized images on nearby computers look like stick figures walking, but they pinpoint gait problems that can be corrected. 
"My primary goal is to improve quality of care and cut costs so more individuals can benefit from the improved function these devices provide," says Wilken. "An equally important goal is to expedite and improve the fitting process so patients are comfortable when they first receive their brace. Pain and discomfort are the top reasons patients discard a brace."
Helping service members—and civilians
Wilken grew up in Coralville, Iowa, not far from the UI campus, and spent seven years studying at the institution. 
After graduate school, in 2005, Wilken left Iowa for a research position at Brooke Army Medical Center in San Antonio, Texas. As director of the Military Performance Laboratory, he worked with hundreds of military service members and veterans, a group especially vulnerable to lower limb injury due to combat, rigorous training, and movement over rugged terrain. Many of these men and women had survived bomb blasts and gunshot wounds but were determined to remain physically active and strong.
Image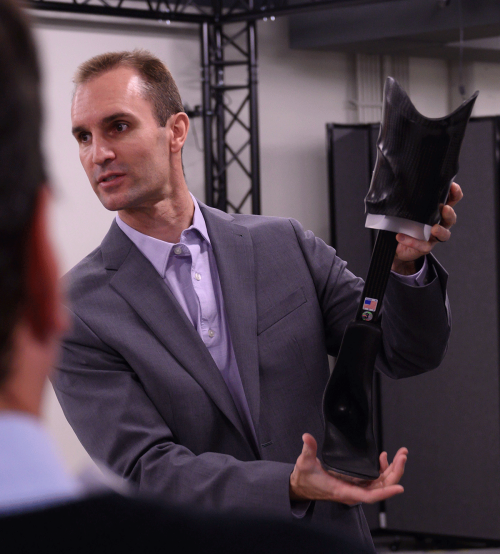 Wilken, who produced dozens of scientific research papers while at the military medical center, was particularly interested in the design, function, and fit of carbon fiber braces, as well as how to train patients to use them. As a result of the gait analyses he performed, Wilken discovered that simple, low-cost changes to device alignment and cushioning—such as the use of a foam pad to lift the heel—were more critical to fit than more costly changes in brace design.
While working with active military members and veterans, and achieving a 30%  improvement in brace function for them, Wilken began to see the larger potential of his work and how it could be used to help civililans, too. Unlike members of the military, whose medical care is covered by the government, many civilians have limited access to orthopedic care. A carbon fiber brace and associated training can cost $10,000 and up.
When Wilken had an opportunity to move back to Iowa and work in a university medical setting, he was all in.
"I really enjoyed working with servicemen and servicewomen," says Wilken. "But I also knew I wanted to create a more accessible device that would work well, without a lot of adjustment, right from the start. The opportunity to come to a well-respected research university and work with internationally recognized experts and a more diverse patient population made the decision easy."
Expanding research with new goals in mind
Since his return, Wilken and his research team have made it their goal to improve the lives of thousands of lower limb trauma patients. This includes veterans as well as people injured in automobile and workplace accidents, and those recovering from infections, which can damage extremities. 
$10 million
Department of Defense grant
As part of a $10 million Department of Defense grant—which will cover a handful of projects led by UI researchers—Wilken hopes to identify new methods to prevent, delay, or mitigate post-traumatic osteoarthritis (PTOA) after joint injuries. PTOA is responsible for more than 10% of symptomatic osteoarthritis, and the financial impact of these cases in the U.S. exceeds $15 billion annually. It is the most common cause of permanent disability in military personnel.
Wilken and Donald D. Anderson, PhD, vice chair of research in the Department Orthopedics and Rehabilitation, are looking for new ways to use gait analysis and joint mechanics to help patients with intra-articular fractures—ankle and lower leg bone fractures—avoid a diagnosis of osteoarthritis. 
After a traumatic injury to the ankle or lower leg, many patients experience a loss of cartilage cells, which can eventually lead to arthritis. Anderson and Wilken are trying to find a way to reduce the loss of these cells by reducing mechanical loading of the weight of the body on the ankle or leg, which they believe could make the cartilage last longer and delay the onset of arthritis. 
Image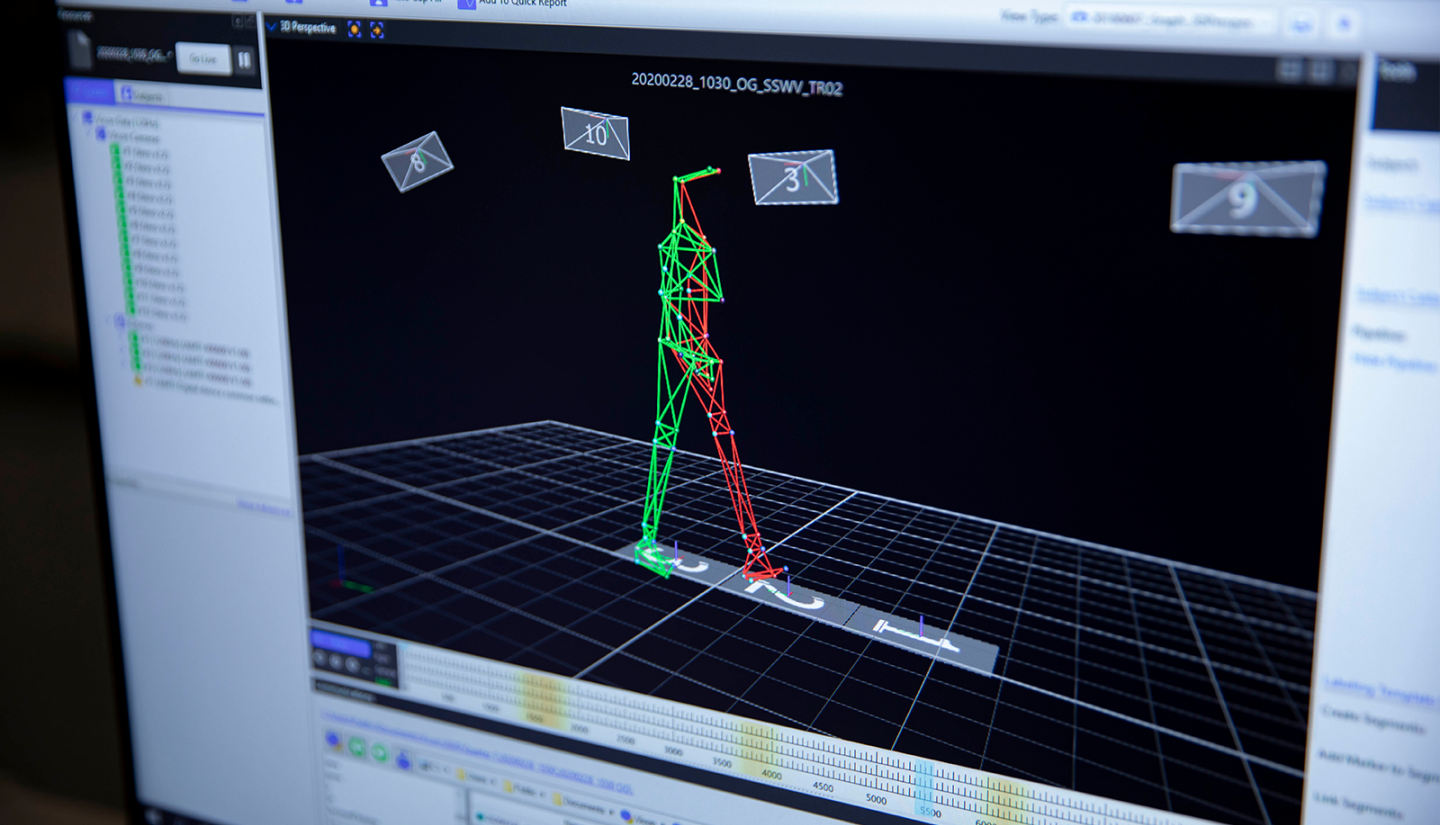 There are three aspects of this research: Wilken's human subject testing in his lab, Anderson's work with a computer model he created to measure the force exerted upon ankle cartilage, and brace device revisions conducted by a private orthotics company in Des Moines. 
"Don and I have complimentary academic backgrounds and are focused on improving patient care," Wilken says. "There is strong support for collaborative research at the UI, which was a major factor in my decision to return."  
As part of an ongoing $2.5 million study, Wilken and his team will use gait analysis and patient-reported outcomes to compare two different commercially available carbon fiber braces to determine which one provides the best overall performance. The study, which will include 71 patients from across the nation, including Walter Reed National Military Medical Center in Washington, D.C., and the Minneapolis Veterans Affairs Health Care System, will be used to set a new standard of care for service members and civilians alike who have experienced lower limb trauma. 
Wilken, who had a carbon fiber brace custom created for his own leg so he could experience walking in it, is also investigating new ways to measure a patient's leg and foot. His hope is to make measurement as easy and exact as possible, in part by using digital measurements captured with cameras in tablets and cellphones. 
"I have seen the potential of what a better brace—a lighter, more dynamic one—can do for a patient," Wilken says. "I want to make it easier for more people to get one of these devices and use them to improve their lives—play with their kids again, get active in sports again, and continue to work and thrive, in general." 
Research with local impact
A beneficiary of Wilken's work is Charles "Chuck" Connerly of Kalona, Iowa. Connerly lost partial use of his feet after his toes were surgically removed due to sepsis. Connerly, a former runner, avid walker, and active grandfather, was eager to regain his mobility. He was referred to Wilken by his UI physical therapist, Dick Evans.
Image
"Chuck is the perfect example of the type of patient that can benefit from the functionality of lower limb braces," says Wilken, who worked with Connerly in his lab to perfect a set of braces for him. "His physical condition took him away from the things he loved doing, but now that he has his new braces, he is making great progress." 
For Connerly, the opportunity to work with Wilken and his team to get the right fit for his braces was invaluable and incredibly interesting. He had his gait analyzed by Wilken in the lab, an experience he calls "fun and enlightening." 
"You're parading around 80% nude with these sensors stuck to your body, and they analyze how you are walking," says Connerly, PhD, who is a professor and director of the UI School of Urban and Regional Planning. "It turns out that I had developed some really bad habits in terms of how I walked. I was swinging my arms too little and not moving freely, all of which Jason and his team were able to detect with their equipment."  
Wilken also worked with Connerly to put on his braces correctly, which can be a problem for patients. He also worked with his physical therapist to help Connerly learn how to walk with them. This can also be tricky because the braces replace function of the muscles and spring the leg forward, but the "kick" that the braces produce can also be difficult to control. 
Almost every aspect of the university—the medical side, the scientific side, the research side—came together to help me. "
Chuck Connerly, Kalona, Iowa
"When you walk with the brace, you have to move your knee slightly over the toes; you can't walk stiffly," Connerly says. "Once you learn how to walk with the braces, they really propel you forward. I actually have to be careful walking down hills because it can be hard to slow down. I feel so light on my feet now; there's no more clunkiness."
Connerly is not sure he would have had the same experience—or physical results—anywhere else. 
"Almost every aspect of the university—the medical side, the scientific side, the research side—came together to help me," he says. "Every time I take off my braces, it strikes me that I was in the right place at the right time."
Next steps
Ultimately, Wilken's goal is to get even more patients into his lab for gait analysis and proper brace fit and use.
"My focus is on getting this research out to physical therapists, physicians, and orthotists so they can help their patients stay active and healthy," Wilken says. "I'd like everyone who needs a brace to have one and use it to live the best life possible." 
Image
Iowa research into mechanisms, treatment for post-traumatic osteoarthritis
Jason Wilken's work is part of a long-standing effort at the University of Iowa to prevent, delay, or mitigate post-traumatic osteoarthritis (PTOA) after joint injuries. For example, Department of Orthopedics and Rehabilitation researchers are currently working on multiple projects funded by a four-year, $10 million grant from the U.S. Department of Defense (DOD). 
Joseph A. Buckwalter, MD, a world-renowned expert in PTOA, is the principal investigator of the study. The research projects include: 
Small-scale, early phase clinical trial of amobarbital to reduce PTOA risk in tibial pilon fractures
Principal investigators: J. Lawrence Marsh, MD, and James C. Torner, PhD
Integrating pathomechanical PTOA risk into clinical decision-making following IAF (intra-articular fracture)
Principal investigators: Donald D. Anderson, PhD, and Jason Wilken, MPT, PhD
Supplementing joint lubrication as an adjunct to amobarbital treatment
Principal investigators: James A. Martin, PhD, and Aliasger Salem, PhD
Correlation of cartilage mechanics with chondrocyte mitochondrial dysfunction targeted by amobarbital
Principal investigators: Jessica E. Goetz, PhD, and Mitchell C. Coleman, PhD
A separate, $3 million award from the DOD will allow for a complimentary investigation of a biologic intervention to help prevent articular cartilage loss in patients with tibial pilon fractures.