Sections
The U.S. maternal mortality rate continues to climb to unprecedented numbers, highlighting a critical gap in the global understanding of maternal health and the pressing need for new, early interventions.  
With prevention as a top priority, University of Iowa Health Care researchers have gained momentum on identifying early markers and risk factors that can help identify high-risk pregnancies and guide timely interventions. Donna Santillan, PhD, and Mark Santillan, MD (09F,16PhD), are leading this effort through the UI Women's Health Tissue Repository.  
The Santillans have created a biobank of hundreds of thousands of samples that is powering research and discovery—from predicting preeclampsia to studying pesticide exposure on pregnant people and their babies.  
Now, more than a decade after its founding, the biobank is helping researchers glean insights into how pregnancy health affects mothers and their children throughout their lives. 
Pregnancy has been difficult to study "because there's a lot of physiological changes that happen longitudinally over pregnancy," says Donna Santillan, a research associate professor in the UI Department of Obstetrics and Gynecology. She adds that there has also been a general hesitancy to conduct studies on pregnant people due to concerns about research-related side effects.  
"Women's health care has long been underfunded because it's still sometimes seen as a "niche" health issue," she says. "While there was this perception that pregnancy only affects women, everybody's health is affected by pregnancy because everybody is born," she says. 
The UI Women's Health Tissue Repository was formed in 2010 to collect samples from all stages of women's lives. The program was borne of not having enough information about tissues already being collected. 
"We needed samples for our own projects, and when we tried to get those samples, we found the only ones that existed on campus didn't have any clinical information attached to them," Donna Santillan says. "That's not useful when you're trying to do translational research and put together outcomes with the biology." 
Instead of creating tests or interventions to be conducted on pregnant people, the Iowa program collects tissue samples from patients who consent to participate in research. Samples—including cord blood and the placenta at birth—are collected in concordance with other regularly occurring tests or through noninvasive means. They are stored along with relevant clinical information and health outcomes of both the parent and child. It's been a way to bridge research gaps and open the door to a better understanding of how pregnancy affects the pregnant person and their children. 
Now, researchers have that more complete picture. 
Image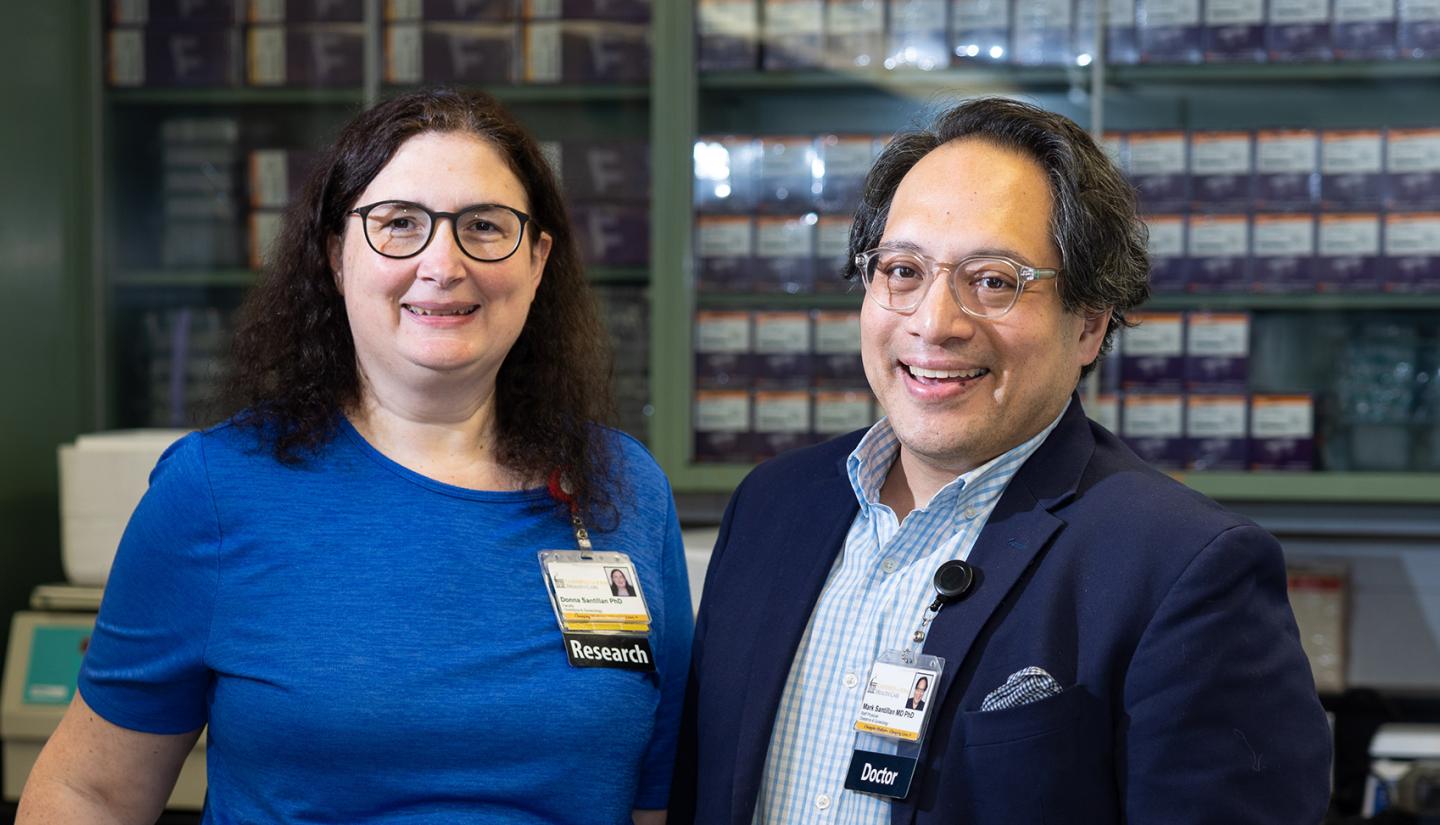 Key findings so far, with more to come
This biobank, and the UI team's research projects drawn from those samples, have already resulted in potentially life-changing findings.  
In 2022, the Santillans, along with other researchers, published a paper in Nature demonstrating that RNA sequencing from a single maternal blood draw can be used to accurately determine gestational age of a pregnancy and also predict the likelihood of preeclampsia, a cardiovascular disorder that can lead to early delivery and create immediate and potentially lifelong risks to both mother and baby, including liver failure, kidney failure, seizures, and death. Between 10% to 15% of maternal deaths worldwide are due to preeclampsia and associated complications, according to the March of Dimes.   
This finding builds on their 2014 discovery of a biomarker that could reliably predict whether pregnant people were likely to develop preeclampsia as early as six weeks into a pregnancy.  
They have patented this landmark finding, and Donna Santillan says companies are working on tests that will enable physicians to know which patients are at risk much earlier in their pregnancy. Prior to this discovery, preeclampsia was diagnosed in the late second or third trimester of pregnancy via a protein-detecting urine test. 
While there are currently no ways to prevent the condition, knowing who is at risk can help physicians create a treatment and monitoring plan. It can also prepare patients and their doctors for what might lie ahead, especially as preeclampsia can negatively impact the health of new mothers even after they give birth. 
"Until recently, we often thought that diseases like preeclampsia only affect a woman during pregnancy. We know now scientifically that diseases like preeclampsia and gestational diabetes can affect the mother and the baby for the rest of their lives," says Mark Santillan, an associate professor and maternal-fetal medicine specialist in the UI Department of Obstetrics and Gynecology.  
Image
This makes identifying who is at risk, and mitigating the effects as much as possible, vital for both maternal health and for the lifelong health of the person who gave birth and their child.
The UI is also part of the Heartland Study, a large clinical research project being conducted across the Midwest. Study researchers are looking at maternal exposures to herbicides and pesticides to see if it makes a difference in pregnancy outcomes, Donna Santillan says. Exposure to pesticides could increase the chance of miscarriage and birth defects, according to the CDC. The study examines the presence of two herbicides—dicamba and 2,4-D—in a pregnant person's urine.    
In addition to gauging herbicide exposure, researchers will also collect information, with parental consent, on the baby's delivery, newborn weight, and health of the mother and child. So far, the study has shown a three-fold increase in the level of dicamba in collected urine samples and a 45% increase in 2,4-D in less than 10 years.  
A sobering U.S. maternal health picture
The research being done with samples from the UI Women's Health Tissue Repository is vital, as maternal mortality rates continue to worsen in the U.S. The number of people who died of maternal causes in the U.S. hit 1,205 in 2021—an increase from 658 deaths in 2018, according to the Centers for Disease Control and Prevention.  
The situation is even more dire for women of color. In 2021, the same CDC report found that the maternal mortality rate for Black women in the U.S. was 2.6 times higher than that of white women. 
Until recently, we often thought that diseases like preeclampsia only affect a woman during pregnancy. We know now scientifically that diseases like preeclampsia and gestational diabetes can affect the mother and the baby for the rest of their lives."
Mark Santillan, an associate professor and maternal-fetal medicine specialist
While many factors have led to this crisis—including the closing of rural hospitals, shuttering of maternity wards, and inequities in access to health care, especially pre-natal care—getting a better understanding of the biological underpinnings and markers for potential complications could save lives. 
"Having the ability to ask new questions about a patient's life very early on in their prenatal care and its potential effects on offspring is very powerful," says Mark Santillan. "These samples are critical to be able to ask those questions." 
A longitudinal approach with breakthrough potential
In many ways, this project is not unlike a biology-led version of the famed Nurses' Health Studies, which has enrolled more than 275,000 people since 1976. Such a large cohort of participants followed over the course of their lives has led to breakthrough findings that helped link cigarette smoking with cardiovascular disease and postmenopausal obesity with breast cancer.  
It's plausible that, over time, as more samples are taken from these patients and their children, similar biological insights will be found through the Iowa biobank. 
"Given our data structures and our biobanking efforts, we are able to ask questions not only on an epidemiological level but also look at the molecular basis of some of these connections," Mark Santillan says.
The children of the first participating parents are now about to become teenagers and are at the age where they, or their parents, might realize they're neurodivergent or have developed other health conditions. 
"We can go back to the cord blood and mom's blood and look for biomarkers to find something very early on that may have put them at a higher risk," Donna Santillan says, which could lead to creating early tests and interventions for future generations.  
Photos by Liz Martin
Image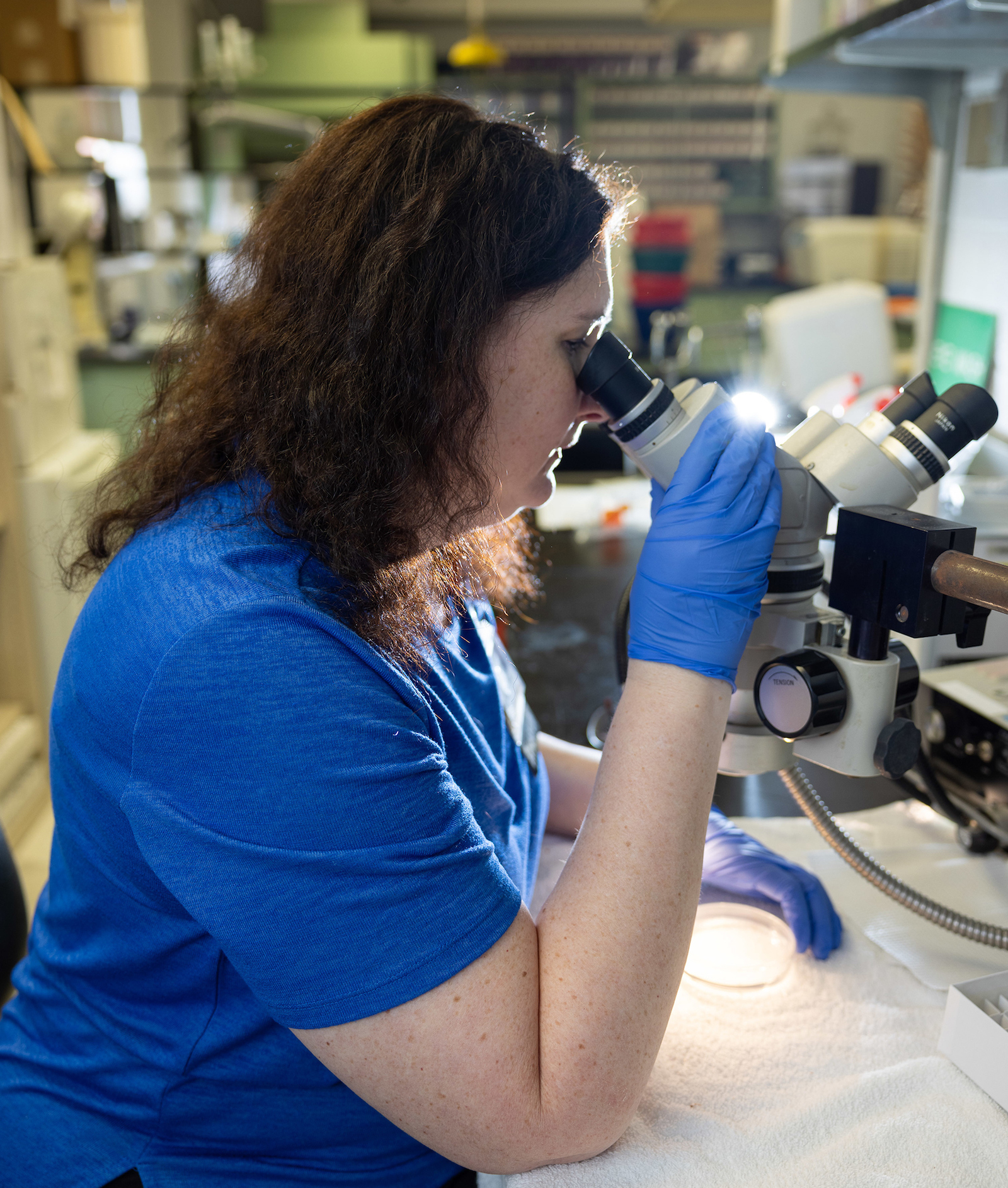 Image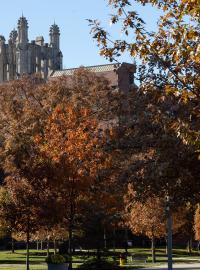 GRANT RENEWAL SUPPORTS POSTPARTUM CARE IN RURAL IOWA
The University of Iowa recently received a $21 million grant renewal of their Clinical and Translational Science Award (CTSA) from the National Center for Advancing Translational Sciences at the National Institutes of Health. The funding from this grant has long supported the university's efforts to move research beyond its borders by collecting data from people in their home communities across the state. 
The CTSA grant previously supported Donna and Mark Santillan as they developed a robust biobank for women's health in Iowa, Minnesota, and Alabama with an emphasis on collecting samples from rural populations. The funding allowed the duo to collaborate with providers around the state to help identify women at risk for preeclampsia and coordinate better medical management of pregnant and postpartum patients.  
The current grant will continue to support similar efforts with an emphasis on postpartum care coverage in rural parts of the state. Rural patients are at high risk for developing true hypertension in the year after delivery, yet they often fail to get the appropriate care.  
"What we realized is that despite postponing their own health care, women are great at making sure their baby gets health care," says Patricia Winokur, MD (88R, 91F), executive dean of the UI Carver College of Medicine and co-director of the Institute for Clinical and Translational Science. "We have a unique twist in that we are connecting with these women through pediatric practices to set them up for the study." 
A team of UI computer scientists has developed easy ways for these patients to check and report their blood pressures, with a pharmacy team following the patterns. If they see blood pressures that need medical management, they work with the primary care providers to ensure these postpartum patients receive the care they need.  
Image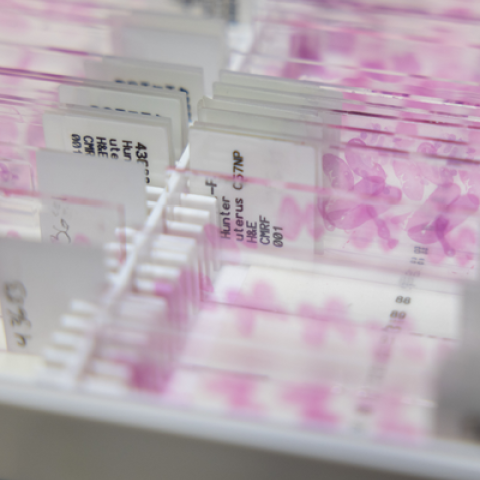 Interested In Collaborating?