Article Image
Image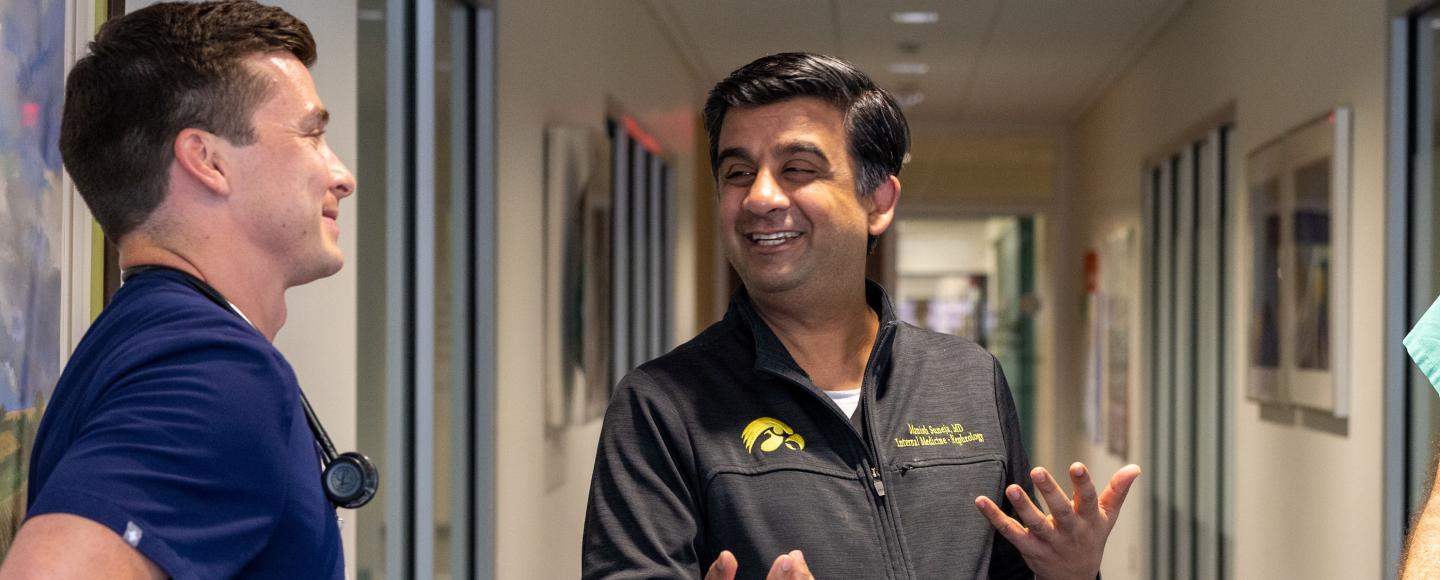 Sections
Manish Suneja, MD (04R, 06F), believes in the power of setting a good example.
As director of the internal medicine residency training program, he consistently models how to take a useful medical history or the process of clinical decision-making on inpatient rounds or in noon conferences. He also models empathy—understanding another person's pain and suffering—which studies have found to be a critical component of providing transformative care.
Suneja was involved in a student-led study, published earlier this year in BMC Medical Education, that assessed empathy levels and predictors of empathy among students at several University of Iowa health colleges—including the Carver College of Medicine and the colleges of Dentistry, Nursing, and Pharmacy. The study found that students' empathy scores were linked to their perception of a faculty member's empathy levels toward students and patients.
"This reinforces the importance of faculty role-modeling and how the hidden curriculum can play an important role in preparing a compassionate health care workforce for the future," Suneja and the other study authors wrote.
Suneja describes the study's findings and its implications with Medicine Iowa.
Publication in BMC Medical Education
The University of Iowa study assessed empathy levels and associated factors among students at several UI health colleges—including the Carver College of Medicine and the colleges of Dentistry, Nursing, and Pharmacy. 
Q: Why is empathy so important in health care? Are there factors that influence empathy and therefore could be targeted through the medical school or residency curricula? 
Empathy helps us see each patient and their experience as unique, which enhances patient-centered care—tailoring our treatments and interventions to meet individual needs. It makes us more effective communicators, allowing us to build trust and establish rapport, which becomes important for an accurate diagnosis, prescribing the right treatment plan, and adherence with that plan.
Empathy helps us provide emotional support, comfort, and reassurance—helping validate and then ease the patient's anxiety. Finally, it is the foundation for building a long-term therapeutic relationship, one in which patients feel respected and like a partner in their care. Overall, empathy contributes to better health outcomes, greater patient satisfaction, and a more humane health care system. 
Medical education can prioritize teaching and assessing communication and interpersonal skills. Training in active listening, nonverbal communication, empathy-centered interviewing techniques, and breaking bad news can equip students with the necessary skills to connect with patients.
We should also emphasize cultural competence. This includes recognizing and valuing patients' diverse backgrounds, beliefs, and preferences. Incorporating education on cultural competency, health disparities, and the social determinants of health helps students develop a broader understanding of the context in which patients live and how it impacts their health experiences. 
Q: In the study, you surveyed 300 students training for a variety of health care roles—dentists, nurses, pharmacists, and physicians. Why was it important to assess empathy levels among trainees?  
Empathy is a critical skill that should be incorporated into health care education curricula. Assessing empathy levels helps identify individual strengths and areas for improvement. Assessment provides insights into how well trainees can connect with patients, understand their needs, and deliver patient-centered care.
This information can guide the development of targeted training programs or interventions to enhance empathy skills. Once that empathy baseline is found, educators and mentors can tailor instruction to address specific needs, ultimately improving the quality of care provided by trainees.
Educators learn a lot about the quality of their curricula as well; we can evaluate the effectiveness of existing programs or design new ones. 
Image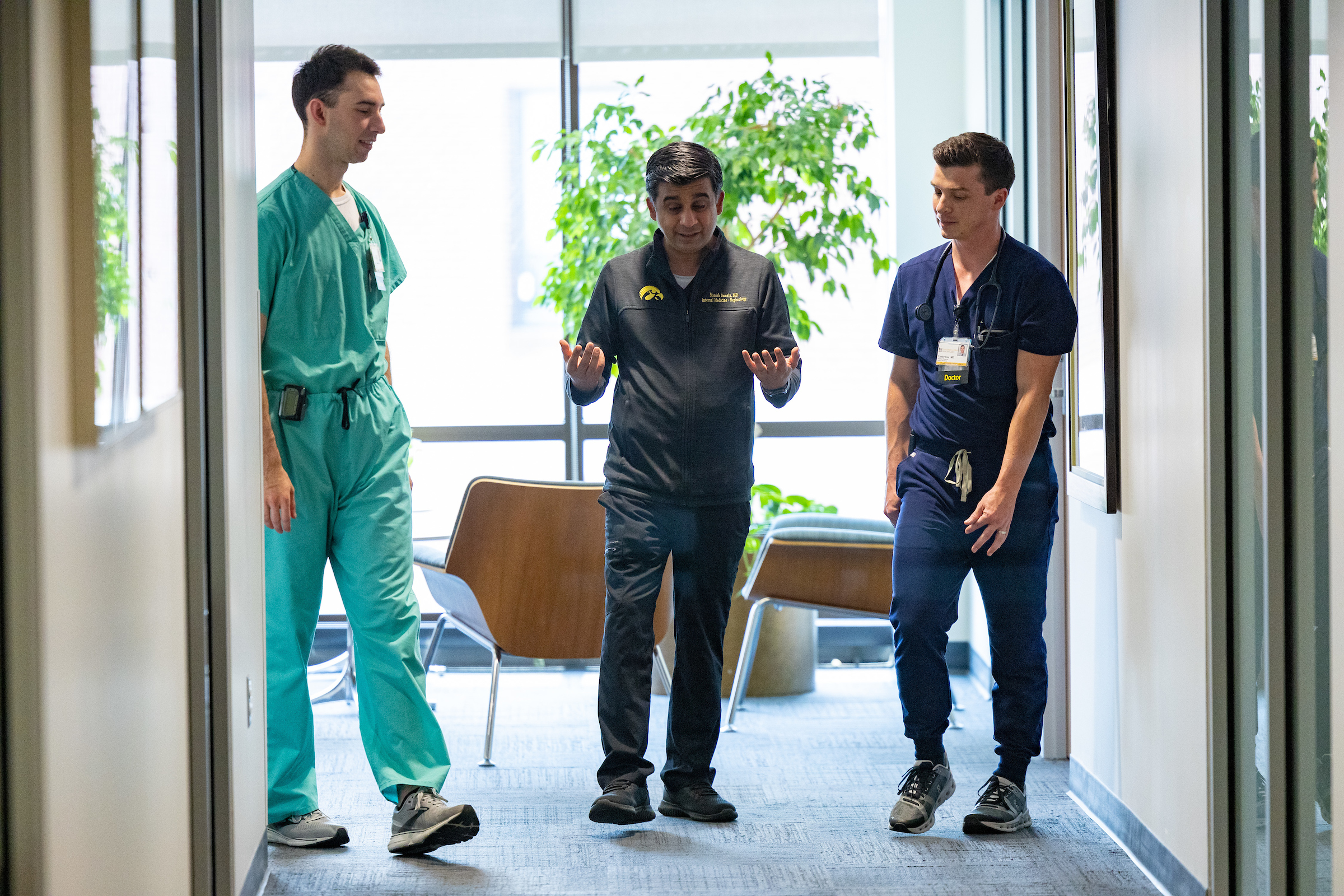 Q: Trainees take their cues about developing and displaying empathy from their mentors and instructors. What are some practical tips teachers can use for modeling and teaching empathy? 
Teachers have to lead by example. They can model empathetic behavior and provide a tangible example for trainees to observe and emulate. Encouraging self-awareness is also important. Regular reflection activities on previous interactions helps them hone their perception of themselves and allow them to see progress in the practice of empathy.
Similarly, reflections on what their patient, or their family, or even colleagues might be thinking and feeling are also beneficial. We especially want trainees to consider perspectives of people with diverse experiences other than those they have already known. Lessons around active listening can also teach empathy.
Maintaining eye contact, asking open-ended questions, confirming understanding, avoiding interruption—these are all good habits of an empathetic clinician. 
Instructors also have to provide good feedback, constructive and specific to each learner that highlights strengths as well as improvement areas.
Regular debriefing sessions allow trainees to reflect on their experiences, discuss challenges, and learn from their successes and failures.
But we should also encourage self-care and resilience. Empathy can be emotionally demanding, and trainees will need to learn skills like mindfulness, stress management, and how to ask for support when necessary. This helps prevent burnout and supports sustainable empathetic care. 
Q: Given empathy's importance in providing effective care, what sorts of studies would you like to see in the future that could reinforce or encourage empathy in medical education?
So many! In a longitudinal study, we could follow medical students from the beginning of their education, evaluating attitudes and behaviors throughout their careers.
We would gain valuable insights into the impact of empathy training and its sustainability and durability. An outcomes-based study looking at empathy's impact on patients would further reinforce its importance.
Comparative studies of different training methods could reveal whether things like role-playing or simulations were more effective than reflection or peer-to-peer or direct mentoring. This could help us build and evaluate curricula and assure programs are adding the most effective, evidence-based methods.
A multidimensional review could produce valid and reliable assessments to measure empathy and identify areas for improvement and allow them to be used repeatedly.
Finally, and most importantly, I believe patient perspectives—their preferences and expectations—should inform our training to ensure we are truly providing patient-centered care.  
Teachers have to lead by example. They can model empathetic behavior and provide a tangible example for trainees to observe and emulate."
Manish Suneja, MD