Sections
Wallace L.M. Alward, MD, professor and vice-chair of the Department of Ophthalmology and Visual Sciences, has been a University of Iowa faculty member since 1987. In 2018, his daughter, Erin Boese (13MD), clinical assistant professor of ophthalmology, joined the department. Now they both treat patients in the UI Hospitals & Clinics Glaucoma Clinic, which Alward directs.
"The thing that attracted me to glaucoma, and I think it's the same for Erin, is that you have these patients forever. Even if their condition is really well-managed and the patients are completely stable, you still continue to see them. I really value the long-term relationships I've had with patients, getting to know them and their families," says Alward, the Frederick C. Blodi Chair in Ophthalmology.
Alward and Boese share clinic time once a week, and Alward, who intends to retire from UI Hospitals & Clinics in summer 2020, is transitioning many of his patients to her practice.
"Some of my patients I've had for 30 years, so it means a lot to them to transition to somebody who's in the family," Alward says. "I'm really excited that Erin is here. It's like a dream come true."
Image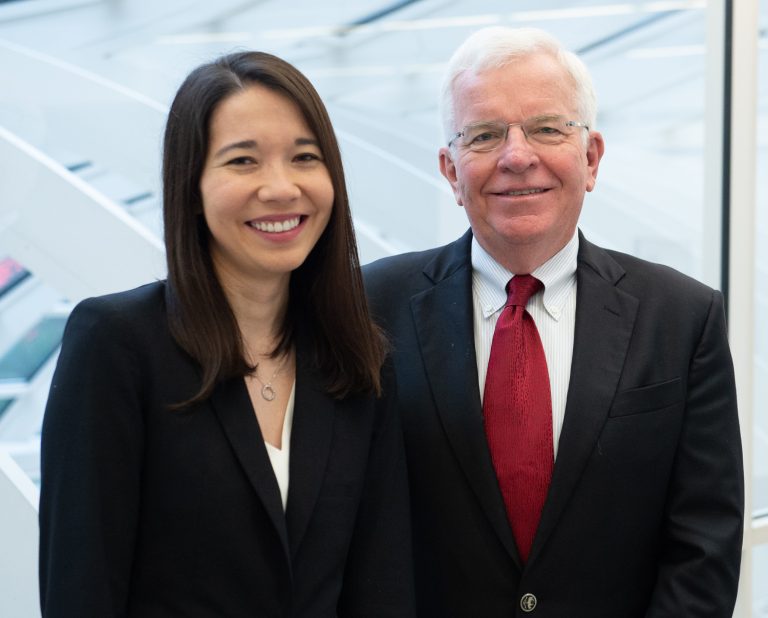 Growing up in Iowa City, Boese was familiar with her father's workplace and his colleagues. She was a volunteer in the pediatrics unit and a baby sitter for the children of other ophthalmology physicians. She and her older sister, Sarah, were the patients in photos demonstrating examination techniques for textbook and website articles written by Alward.
"I would see him come home from work, and I could tell he just loved his job. He came home with a sense of reward," Boese says. "It was clear he was passionate about his patients and what he did on a day-to-day basis."
In college Boese studied abroad in rural Kenya, where she worked in an eye clinic. She was "awestruck" by cataract surgeries that helped patients regain their sight. When she entered the UI Carver College of Medicine, Boese originally set out to pursue pediatrics as a specialty, but a rotation in ophthalmology and feedback from her husband Brian Boese (11DPT) helped to change her mind.
"I knew I was interested in ophthalmology, but my husband recognized I was much more excited after my ophthalmology rotation, since I came home talking all about it," Boese says.
Following an ophthalmology residency at Oregon Health & Science University and a glaucoma fellowship at the University of Michigan, Boese joined her father at UI Hospitals & Clinics.
"Having been in the department for more than 30 years, it's such a great place to develop a career," Alward says. "It's a testimony to how strongly I feel about this as a department, how fair people are, how decent everyone is to each other. We're all rooting for each other's success. I feel really good about Erin being a part of that."